Ukrainian Programmers Continue Working

While Being Bombing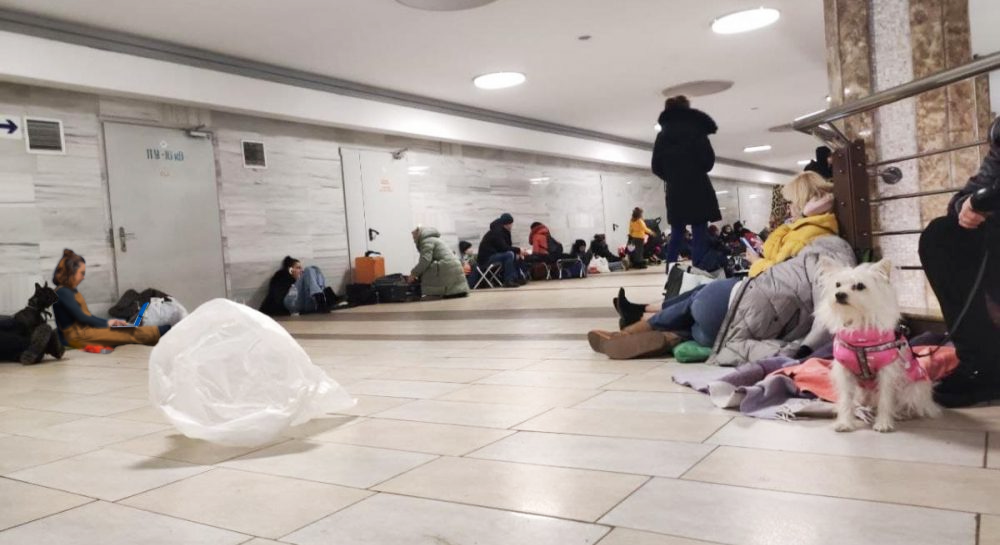 War has affected every Ukrainian and damaged the country's economy. The negative impact was felt by the entire labor market, including IT. But already in the second month, there were trends of improvement. Many IT professionals adapted to the circumstances and returned to their everyday work routines. We decided to look into the situation and understand how Ukrainian programmers continue working while there is war. We also talked to the dev and learned about ruby life in Kharkiv, Ukraine.
Developer Life in Ukraine: How was the Situation Changing?
DOU (the largest community of Ukrainian developers) reports a sharp drop in employment in March. There were significantly fewer new offers and more jobseekers. Thus, on jobs.dou.ua for March, 4,341 offers were published, and from February 28 to March 6 – only 370 vacancies were found. Compare: before the war, from 2000 to 2500 vacancies per week were published.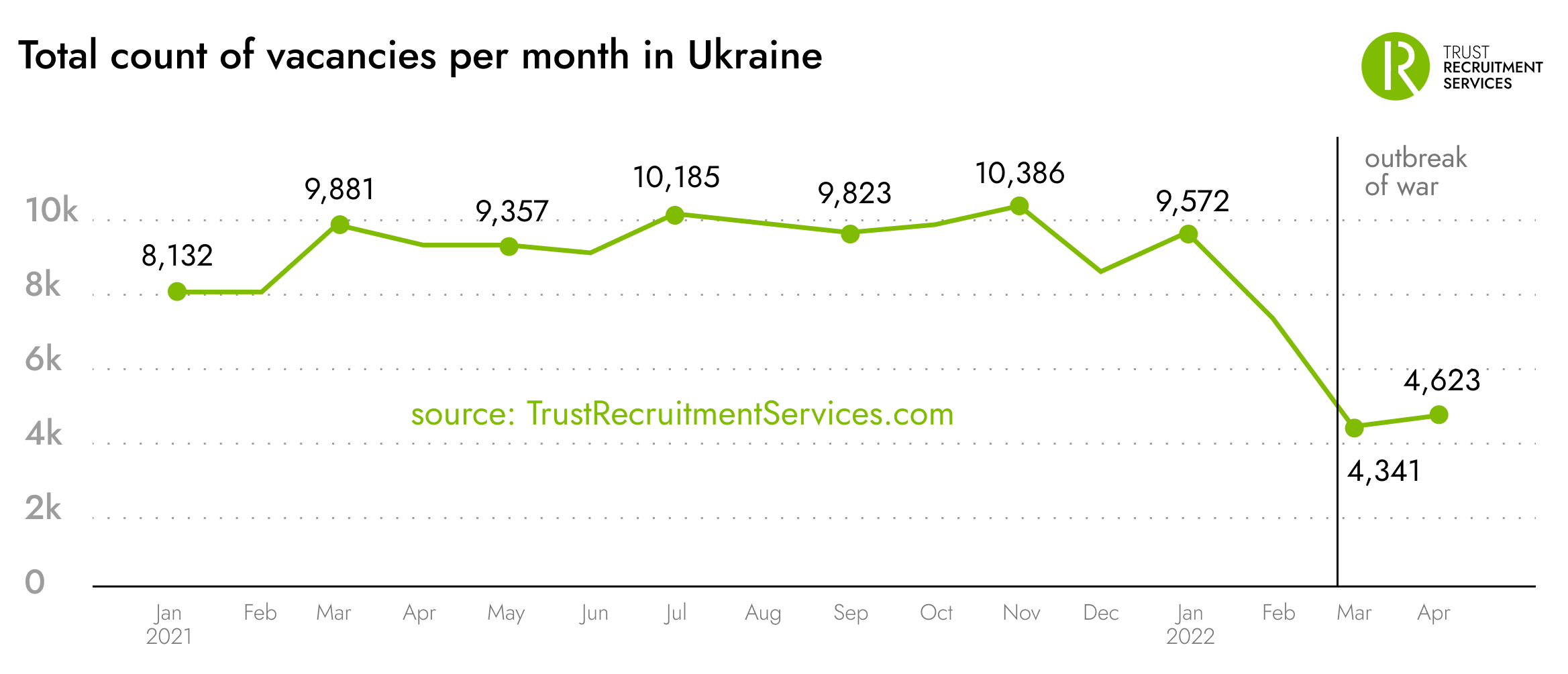 Vacancies for devs in March were down 46%. There was a serious drop at the beginning of the war (compared to January) in job openings for such specialties: PHP, Vue, JavaScript, .NET, Java, Angular, and Go. The situation was more stable for those who deal with Ruby, Unity, React, and Node.js. For example, for ruby developers, the decrease was from 100 (in January) to 72 (in March) and to 58 (in April).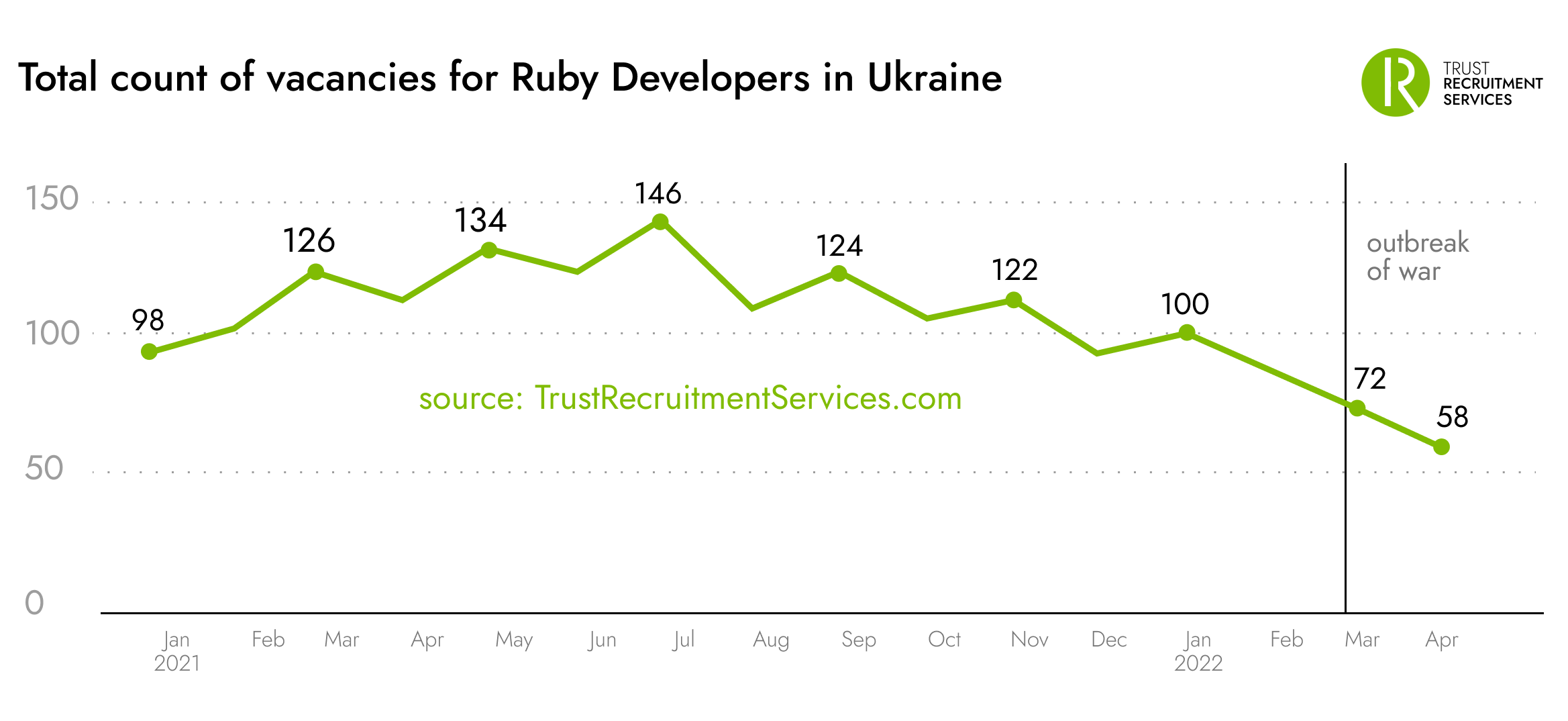 Despite the difficulties, developer life in Ukraine began to improve. Already in April, there were improvement trends, especially for experienced specialists. Thus, 38% of vacancies in April were for 3-5 years of experience.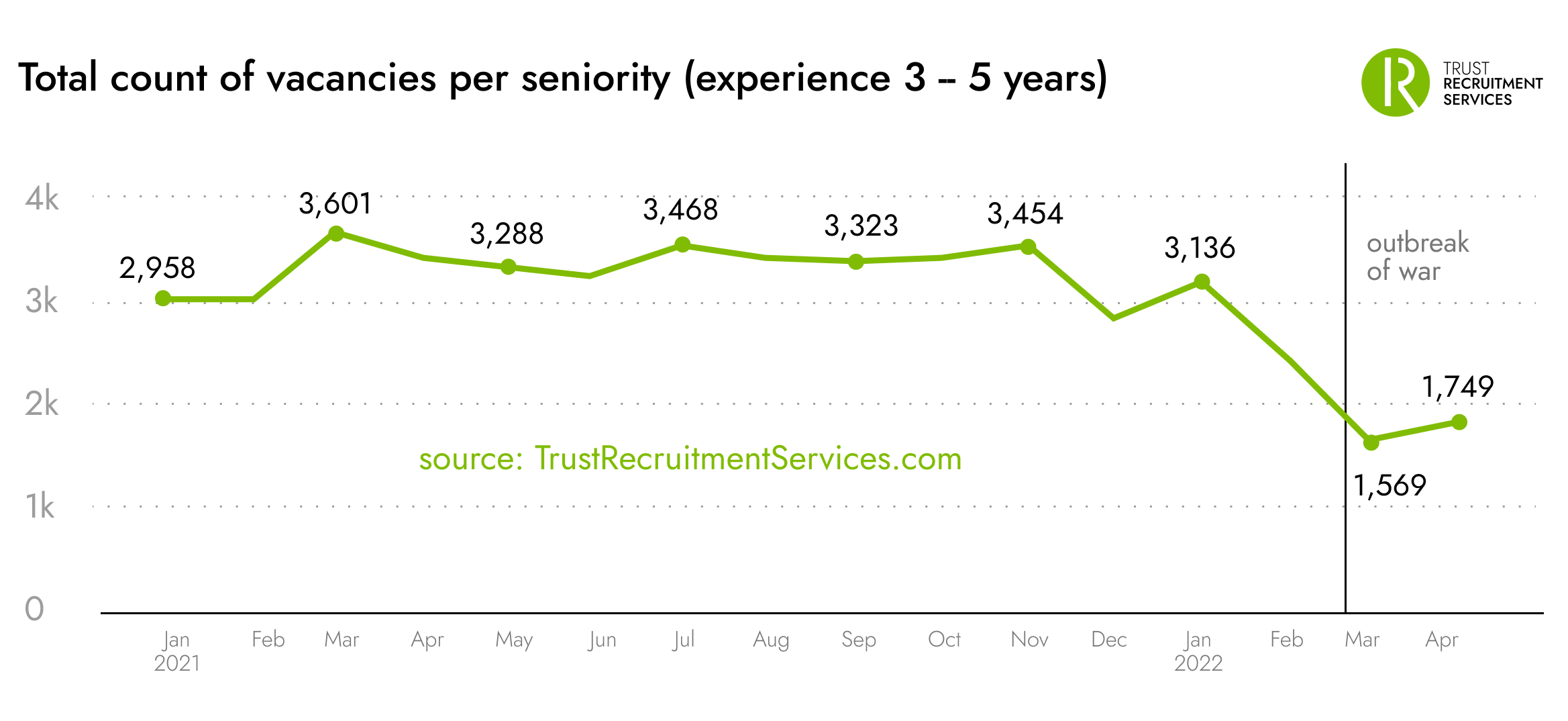 We can also note that demand in April was higher than in January for all levels except interns. In April, Senior was devoted to 25% of all announcements (20% in January) and Middle to 17% (15% in January).
The developer life in Kharkiv and other cities was affected by foreign vacancies. Companies from all over Europe are interested in hiring Ukrainian specialists (applies to all categories). According to general statistics, 82% of all job openings in January were related to work inside the country. The major part of them is in Kyiv, Kharkiv, and Lviv. About 48% were related to remote work. Abroad announcements were only 8%.
Now the number of offers abroad has reached a mark of 26% of the total. In Poland, the figure was 8%. In addition, the remote format has become more in demand: in March, 62% (of all offers), and in April, 70%.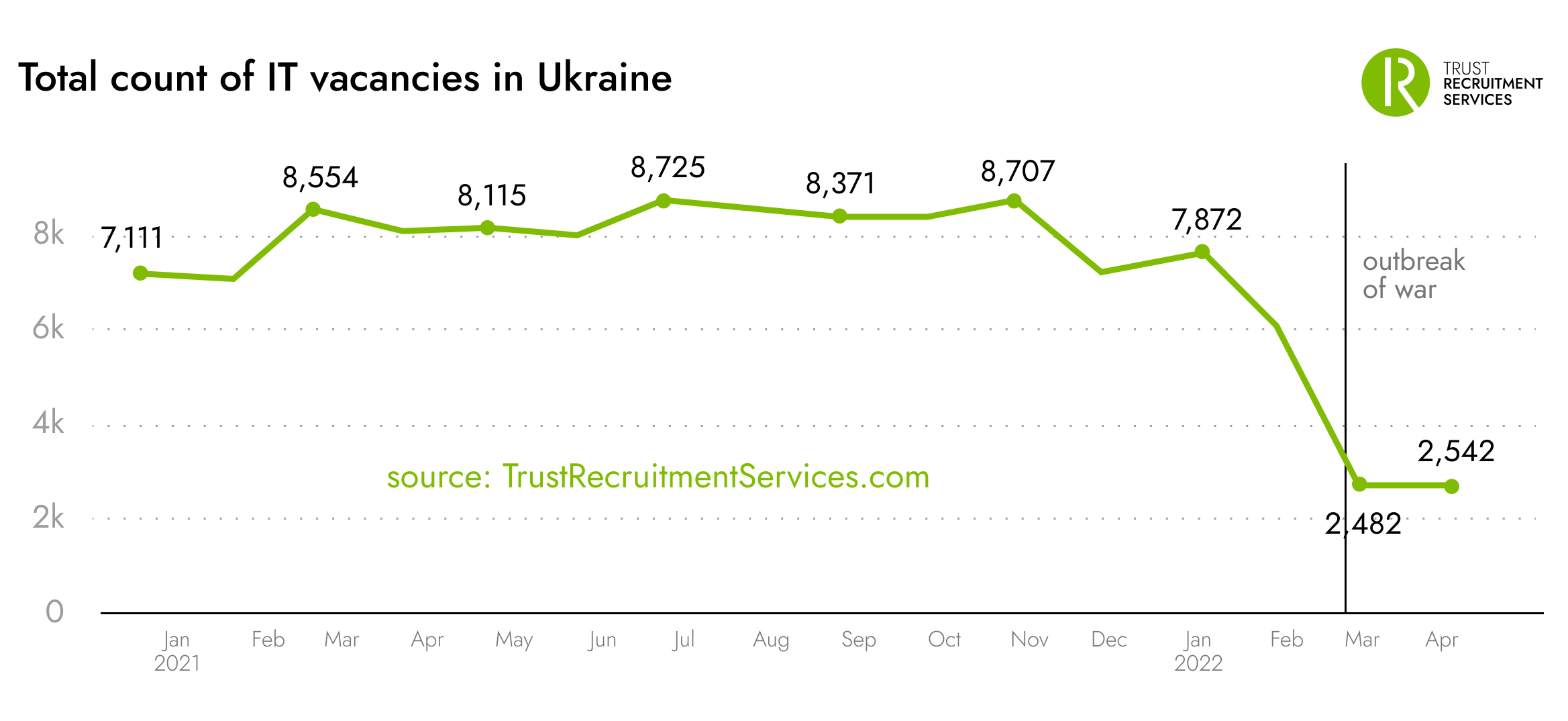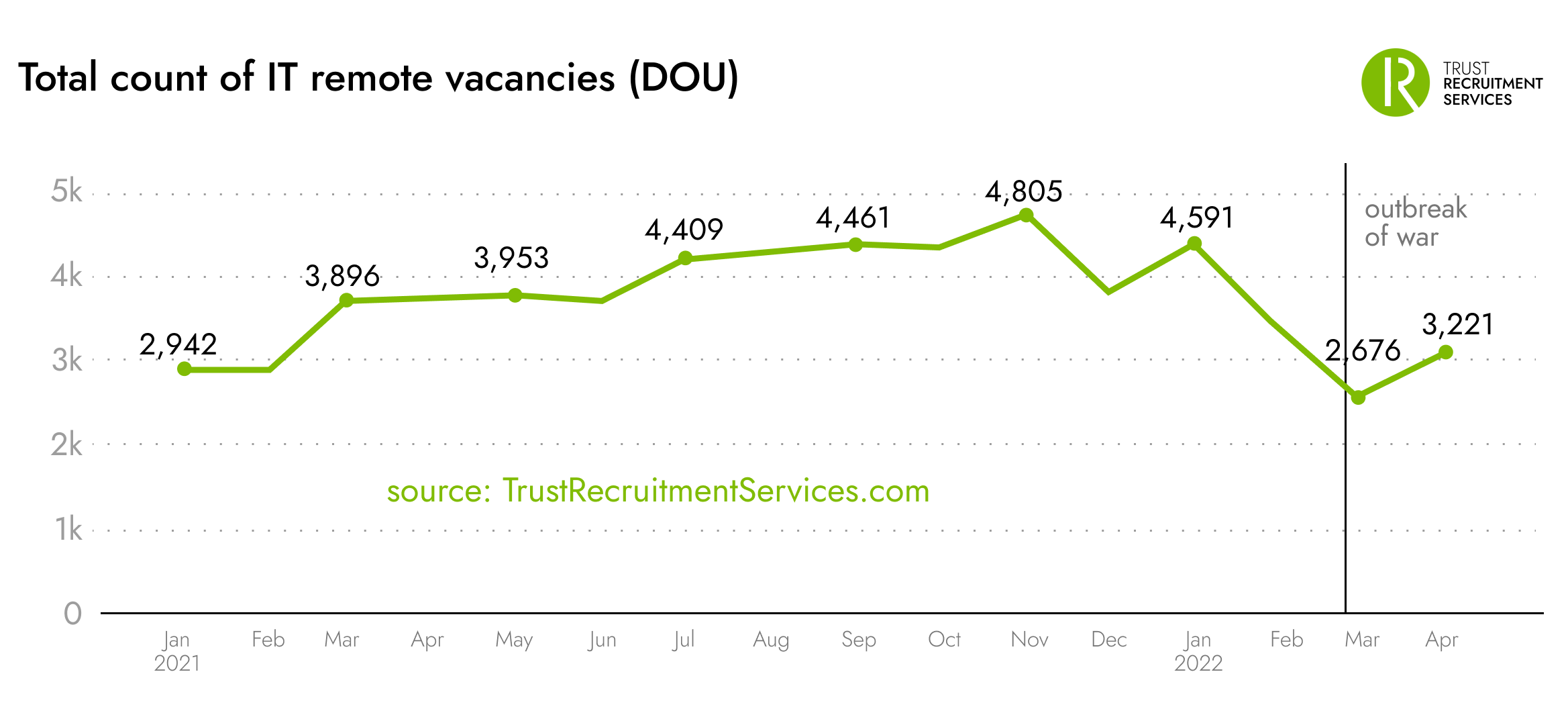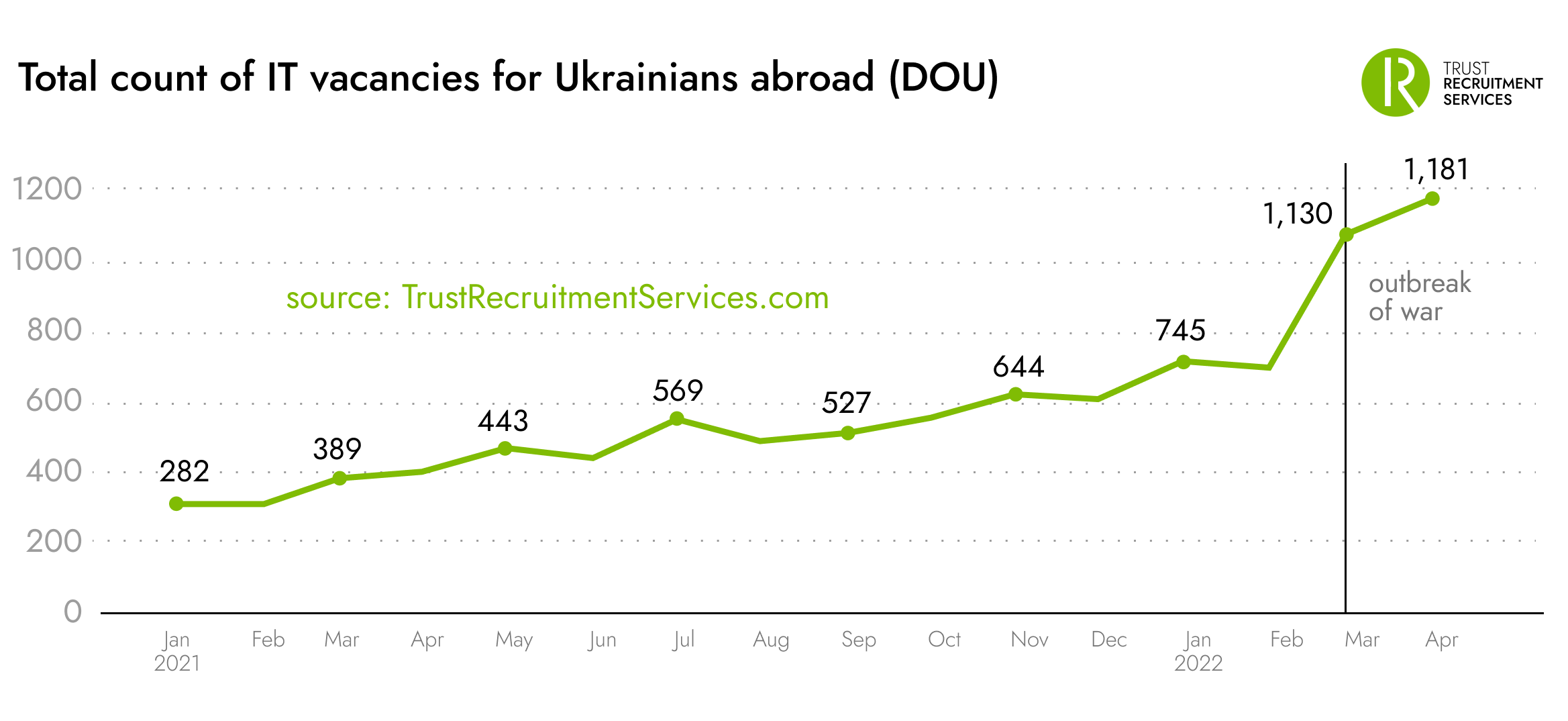 Ukrainians do not lose hope and selflessly carry out projects in conditions of uncertainty. How does this happen?
How do Ukrainian Programmers Continue Working while being in Military Hostilities?
The first weeks were very difficult for developer life in Ukraine. Many moved to faraway cities and regions, particularly the capital or the west. Those who decided to stay hid in shelters and experienced great moral stress.
It is known that more than 15,000 people (source: Bloomberg) have stayed in the Kyiv subway since the invasion. Over time, they found other places to wait out the fighting and joined the work process. They became a support for the economy. We talked to a specialist who has also returned to his job and found out how developer life in Ukraine is going in a city that has survived the occupation.
Developer Life in Kharkiv: a True Story from Ukraine
Residents of Kharkiv have felt all the madness of war. The developer, who was hiding in Kharkiv and didn't leave Ukraine, told us his story.
Volodymyr had a steady ruby developer life in Kharkiv. Until February 24. The first week was the most difficult physically and mentally. He hid in a shelter with his family and continued programming almost immediately.
Volodymyr and his family are now in the central part of the country. He takes on all projects, including cooperating with companies from European cities and sends part of his earnings to volunteers. The guy still works with ruby and dreams of getting back his life in Kharkiv.
Impressive Flexibility of the IT Industry in Ukraine
Statistics, forecasts, real stories – all of this suggest that the IT market in the country is very flexible. Developer life in Kharkiv and dozens of other cities in Ukraine continued. Some left; some did not leave home. However, everyone continues to work and participate in new projects, both local and foreign employers.
As you can see, developer life in Ukraine went through a real turmoil in the first months. But gradually, everything is falling into place. The market has been surprisingly flexible and has started to adapt to the new, albeit very challenging, conditions. What is the secret? The people. Their dedication, courage, and willingness to help their loved ones and their country in any situation.